Free Shipping on Online Orders $300+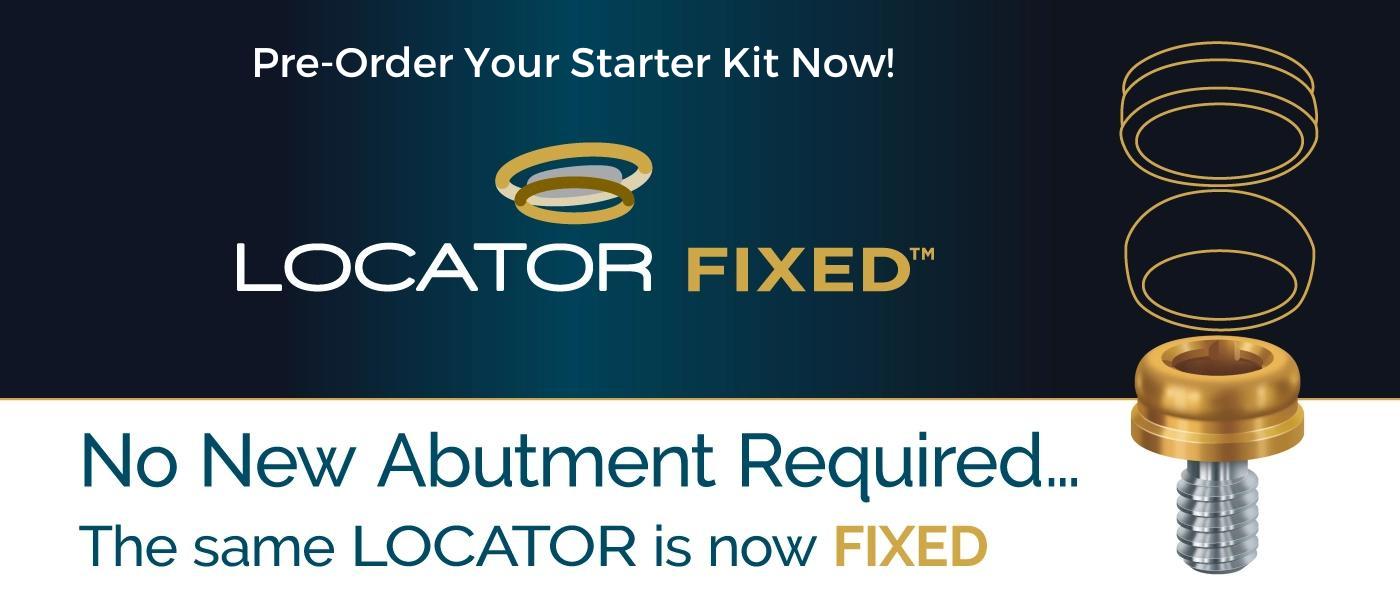 LOCATOR

®

, the Most Trusted Abutment is Now FIXED

Quality of Life is Within Reach

At last!
The financially accessible fixed solution that you've been waiting for.

LOCATOR FIXED is the affordable answer to restoring your edentulous patients' self-confidence, self-esteem, and overall quality of life.
Plus, your patients can now eat what they want, not just what they can. It's time to add LOCATOR FIXED at a Price that's good for you and your patients!

Quality of Life is within Reach
with LOCATOR

FIXED
Leverage patients' existing LOCATOR Abutments to transition to a fixed full-arch solution. Staged treatment planning allows for a pay as you go approach for you and your patient.



Give your patients the life they had with their permanent teeth with a less invasive and less expensive solution.

QUALITY OF LIFE IS WITHIN REACH Make the Move to LOCATOR FIXED.

Leverage patients' existing LOCATOR Abutments to transition to a fixed full-arch solution. Staged treatment planning allows for a pay as you go approach for you and your patient. Less need for bone reduction due to shorter stack
Less need for bone reduction due to shorter stack up height vs other fixed systems

Increase case acceptance for patients who do not want a denture but cannot afford traditional screw retained solutions

Chairtime savings due to no screws or cement needed for installation or hygiene appointments

Patient can easily transition between fixed and removable solutions without changing abutment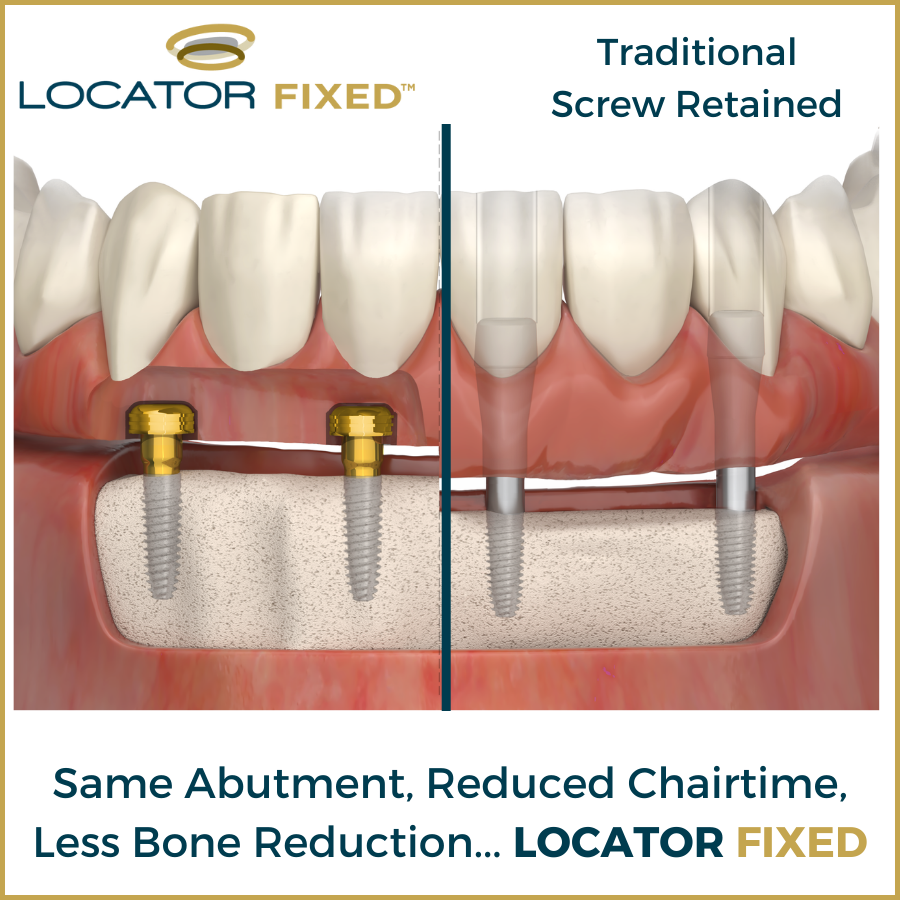 Simplicity, Affordability,
and Performance Converge
LOCATOR FIXED delivers the functionality that you expect in a FIXED full-arch solution at a more affordable price point. Because you use the same abutment and workflow as the tried-and-true LOCATOR Removable option, LOCATOR FIXED is elegant in its ease-of-use and flexibility. At the end of the day, clinicians and patients both benefit from this game-changing FIXED offering only from Zest!
We believe that the best testimonials come from actual patients. LOCATOR FIXED patients Jess, Lowell and Mitch talk about their experience:

Jeff, LOCATOR FIXED patient
Lowell, LOCATOR FIXED patient
Mitch, LOCATOR FIXED patient
LOCATOR FIXED Removes Common Patient Barriers with a FIXED Solution:
Cost:
Reduced chairtime and procedure costs

Reduced need for bone reduction can mean lower procedure fees
Surgical Anxiety:
Less invasive procedure option

Less pain as a result of less bone reduction

Restore confidence and freedom with permanent teeth lifestyle
Fear of Failure or Hidden Costs:
Options should an implant fail are less costly and still allow patient to have a fixed or removable result since the product can be picked up chairside
Time:
Shorter chairside processing time

Shorter overall procedure

Shorter recall/hygiene appointments
Uncomplicated. Uncompromising. Unchallenged.

Unmistakable.

New LOCATOR FIXED... Same Workflow as Locator Removable


Ease of Workflow with Well-Known Pickup Techniques Reduces the Training
Required for Clinicians to Begin to Restore Fixed Cases.
---
LOCATOR FIXED Case Studies: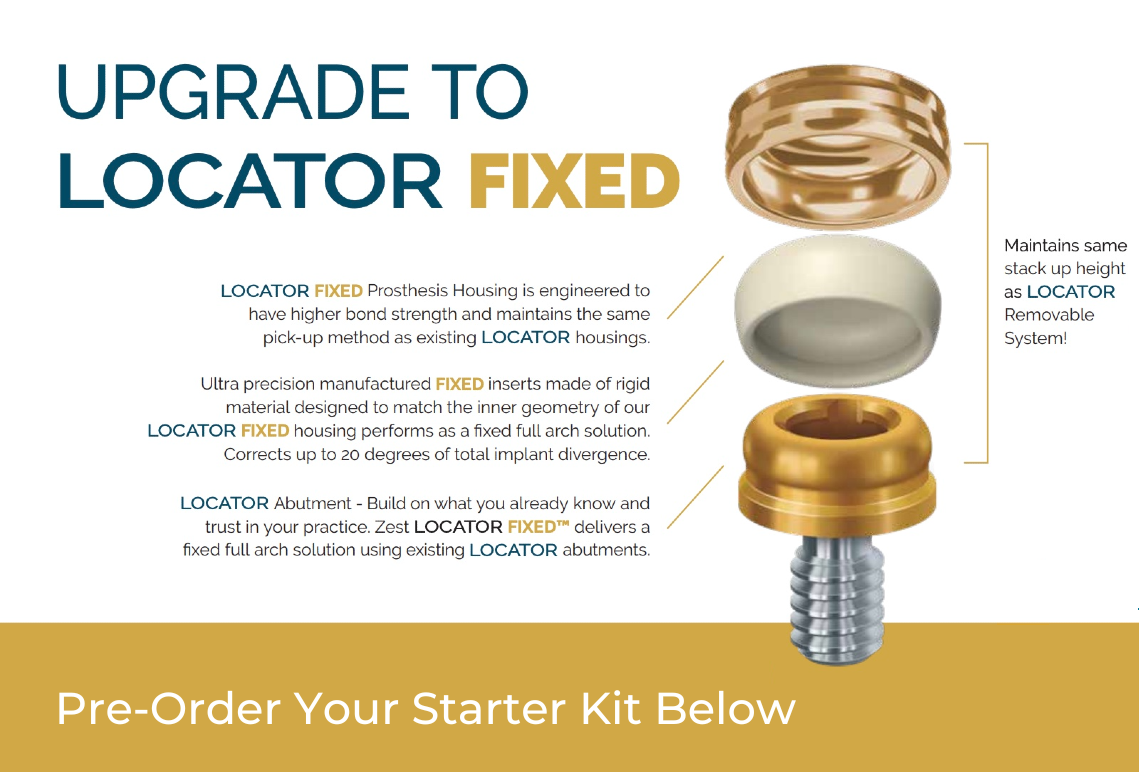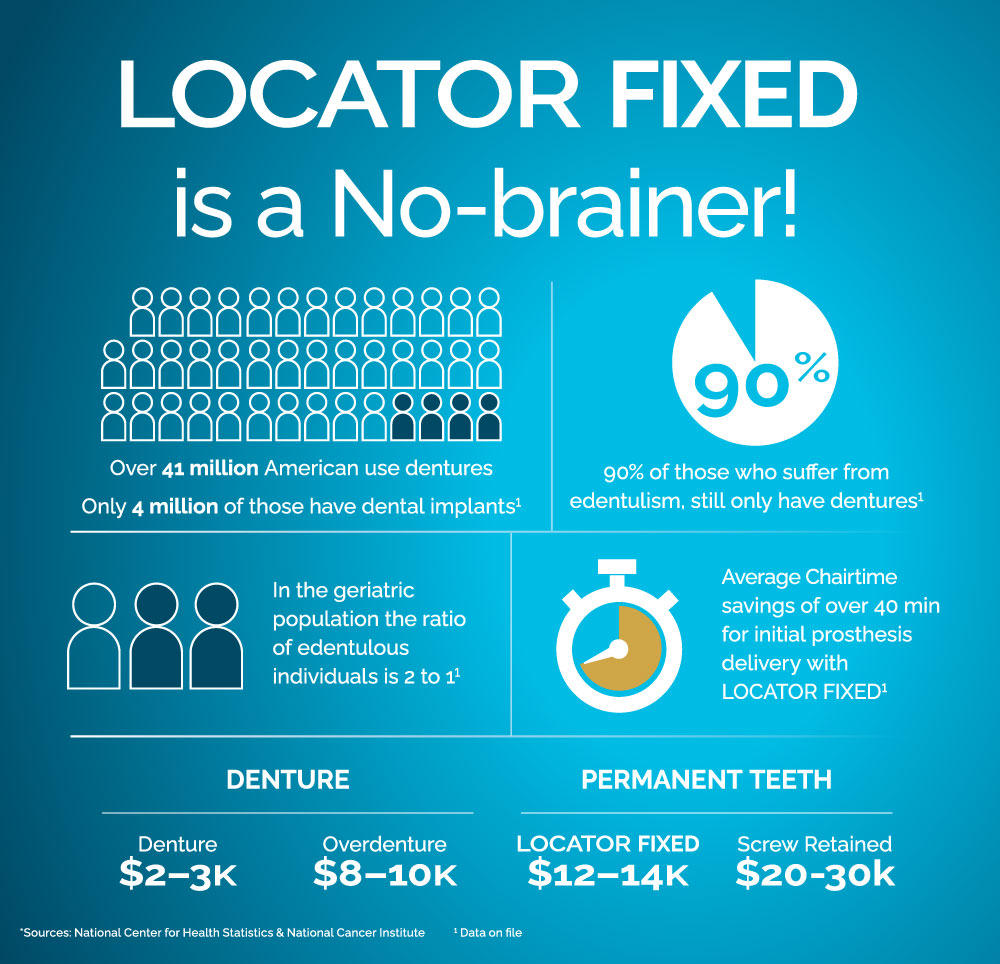 ---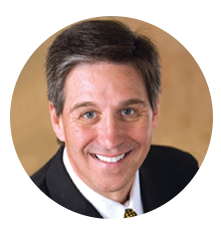 "This disruptive technology will allow more patients access to a higher quality of care. The solution is minimally invasive, the digital workflow is easily accomplished, and requires less chair time. The edentulous and soon to be edentulous patient population continues to grow, this technology gives clinicians a new offering to provide these patients with permanent teeth."

–Dr. David Little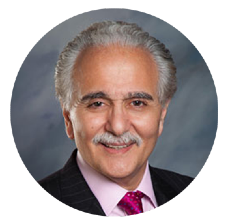 "I find LOCATOR FIXED cases equal to other conventional fixed options in terms of functionality but with a degree of simplicity that is a breath of fresh air. For patients looking for a full arch fixed prosthesis, or 'permanent teeth', I can choose screw-retained or LOCATOR FIXED. If there is minimal cantilever and the patients wants a faster, simpler solution – I lean towards LOCATOR FIXED."

–Dr. Joseph Massad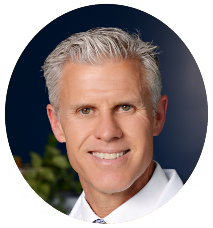 "LOCATOR FIXED provided our practice a new unrealized revenue source. Previously patients had to make a decision between removable and high-cost screw retained fixed options. Now, there's an intermediate cost option with all the same benefits - LOCATOR FIXED. It has increased our case acceptance rate and our patients are happier with the final outcome. Both the patients and our office benefit from the chairtime savings, decreased lab costs and component costs. We now have a fixed solution to offer patients that otherwise could not afford traditional screw retained hybrid prosthetics. Couldn't be happier!"

–Dr. John Poovey
---
The LOCATOR Standard and Premium Implant Surgical Kits offer simplified surgical kit design with convenient color coded drill protocol for reference and ease-of-use during procedures.
The LOCATOR Implants Surgical Kit makes implant procedures simpler, easier, and worry-free allowing clinicians to focus more energy on the clinical and esthetic goals of the case. With LOCATOR Implants you get everything that's expected from a premium system in a bundled solution at a value price thats affordable for clinicians and patients.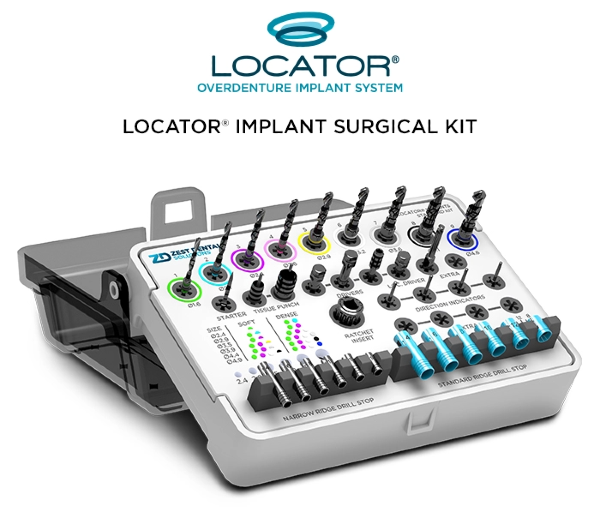 Save Time and Visits with ENCOMPASS
Secured by NavaGation™
ENCOMPASS is the inclusive way to simplify and streamline overdentures treatment while making it financially accessible for more patients, all while saving an average of 133 minutes of chairtime per patient! ENCOMPASS units the trusted LOCATOR name with NavaGation prosthetic driven case planning from Absolute Dental Services
Inside the Box Thinking for Exceptional Overdenture Outcomes.