Just Released: 3 New LOCATOR FIXED Starter Packages
LOCATOR FIXED | The Affordable FIXED Full-Arch Solution
Free Shipping on Online Orders $300+

About the Program
The ZestMasters Certification Program is geared to enhance the knowledge and skills of clinicians with best-in-class education led by renowned speakers. The Mastership Program requires clinicians to attend high-level interactive hands-on webinar courses and a two-day live in-person event in order to achieve recognition as a Zest Dental Solutions Master certified clinician.
How to Get Certified
1. Register for one of the Capstone LIVE 2-Day events.
2. Once registered, you will receive a link to access the program courses.
3. Complete all six required courses before your elected Capstone LIVE 2-Day event.
4. Attend the Capstone LIVE 2-Day event to receive your certification,
learn, practice and dine with the experts!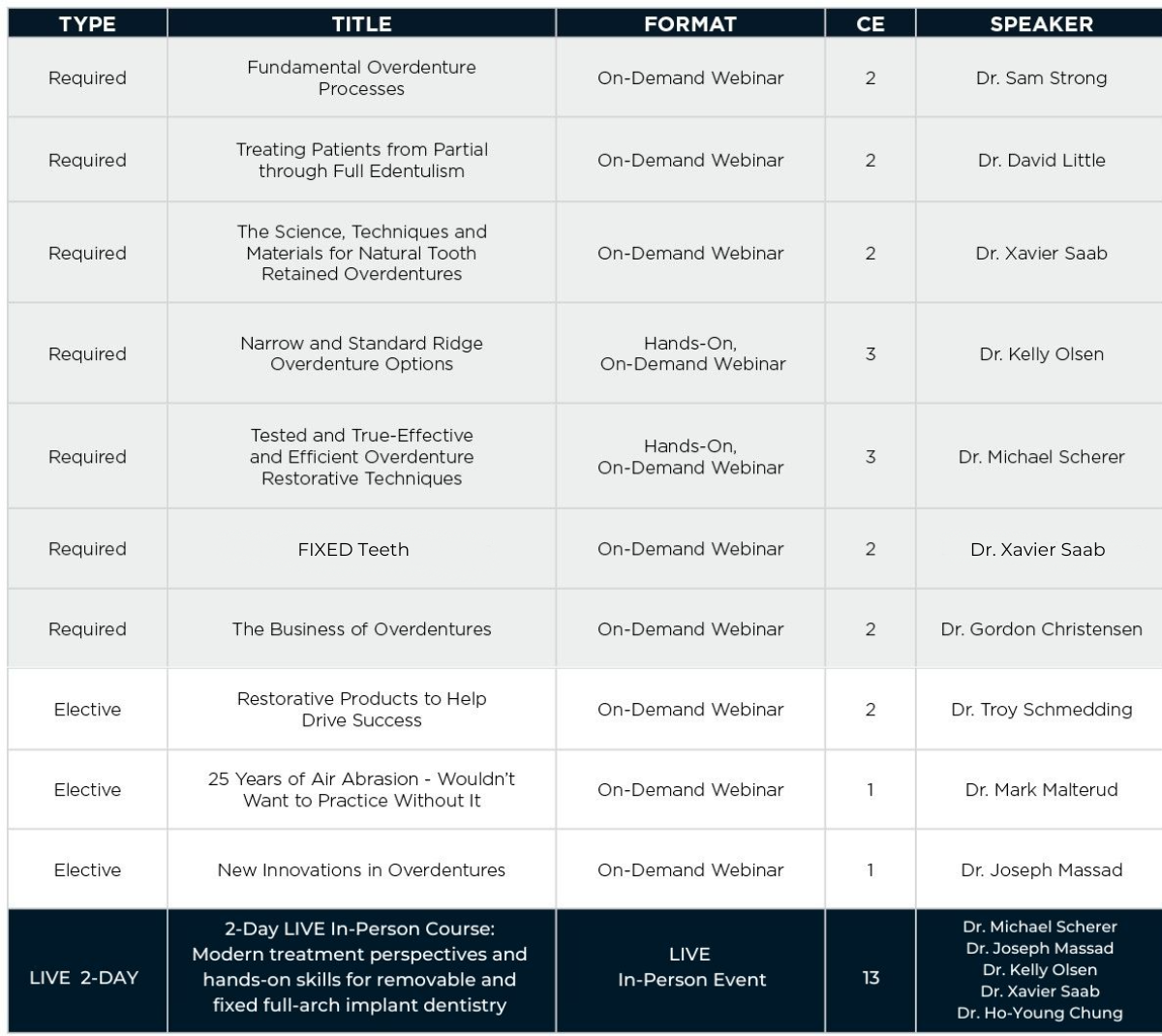 Overview:
The ZEST LOCATOR family of products is the world leader in overdenture solutions. This program is geared to enhance the skill set of dentists with best-in-class education. By certifying the attendees who complete the program with a Zest Overdenture Mastership Certification it provides them the physical declaration which the clinician can post in their office so that their patients can see how much value the clinician puts into overdenture therapy in their practice, as well as helps them showcase their improved skill set and potentially elevate case acceptance due to increased credibility.
In addition to the award winning staff of clinicians and educators this course offers many hands-on opportunities and 30 hrs. of Continuous Education Units.
Some of the included benefits included in this $2,500 package.
Six x 2-hour education sessions led by some of the best dental educators in the world.

Two x 3-hour didactic & clinician led hands-on sessions that include patient education models and all of the
components needed for the hands-on exercises.
Two days (12-hours) of LIVE interaction with world renowned moderators and Speakers

Awards Dinner/Professional Overdenture Mastership Certificate

On-demand web sessions available for review or re-watching at your convenience.

Over $3,000 of product and patient education materials.
Course #1 Fundamental Overdenture Processes 2 hrs./2 CEU
A comprehensive review of overdenture cases. In addition to laying out the fundamental steps and techniques needed for successful overdenture cases Dr. Strong will also be discussing new and creative ways to treat edentulous patients.
Objectives:
Discussing procedures and products to help in treating edentulous patients resulting in better patient
satisfaction.
Describing techniques for more predictable outcomes, better fit, and steps to achieve long term success.

Troubleshooting the most common mistakes in Overdenture fabrication and how to avoid and correct them.
Course #2 Treating Patients From Partial to Full Edentulism 2 hrs./2 CEU
The progression to complete edentulism is often a progressive condition, from missing one tooth, to a group, to finally, full edentulism. This webinar discusses techniques to begin managing patients from the partially endentulus point through full edentulism thereby introducing them to better restorative options and more stable appliance opportunities then a traditional complete denture at the end. Dr. Little will discuss options for managing patients through this critical cycle so that they are more open and accepting of what an implant retained overdenture can truly provide them and strategies for success in a clinical practice.
Objective:
Describe treatment options throughout the dentate life of the patient.

Provide techniques and materials to provide both partial and full denture appliances.

Thinking outside the box regarding patient treatment plans.
Course #3 The Science, Techniques, & Materials for Natural Tooth Retained Overdentures 2 hrs./2 CEU
This webinar is an exciting and fun overview of a topic that we don't talk about enough, utilizing the natural tooth root to retain either partial or full overdenture appliances. This program is designed for both clinicians who want to take their removable overdenture prosthetics practice to the next level and for clinicians who are proficient in removable prosthodontics who like to hear new pearls and the latest techniques.
Objectives:
Review literature on removable tooth-supported partial and full overdentures.

Learn the advantages of the using root attachments for appliance retention

Understand the techniques and materials for root preparation, attachment placement, and overdenture
fabrication.
Course #4 Cost effective and Narrow ridge implant solutions for overdentures (includes Hands-on kit and session) 3 hrs./3 CEU
In this session you will learn treatment options for denture patients that don't have the ridge width or the financial resources for treatment with conventional two-piece implants systems. The typical treatment plan for these patients would be bone grafting, requiring a long process with additional surgeries and added expense. Narrow ridge overdenture implants can be placed through the tissue without flapping allowing you to offer patients a cost effective, non-invasive solution for implant retained partial or full dentures.This course includes a hands-on session with implants, drills, sawbones models, tooling needed, and a patient education model for patient discussion. (included in tuition)
Objectives:
Get detailed instructions on the surgical techniques for placing overdenture retaining implants

Learn how to process the implants into the restorative appliance chairside for better accuracy, cost, and
time savings.
Discuss how to effectively communicate the benefits of implant retained dentures to your patients.

A step by step hands on session for placing and restoring the LOCATOR Overdenture Implant System.
Course #5 Tested and True- effective and efficient overdenture restorative techniques (includes Hands-on kit and session) 3 hrs./3 CEU
Description: The edentulous population continues to grow both domestically and globally. This market has been underserved for many years, and patients have had to adapt to ill-fitting dentures. Thanks to advances in technologies and techniques, dental professionals are now able to provide predictable solutions to increase function, form, and esthetics. These solutions will enhance the quality of life of a fully edentulous patient. This presentation will discuss implant solutions for the edentulous patient.
Objectives:
The clinician will recognize treatment opportunities for helping patients achieve a better long term outcome.

Utilizing various prosthetic components, treatments, and adaptations of the appliances, (both removable and fixed) the clinician will learn which components are best for the specific needs of the patient.

This session includes a hands-on session where the clinician will be picking up various attachments into a simulated chairside denture and taking an impression so that the lab can fabricate a model for processing (if desired). The hands-on kit includes all abutments and tooling needed to pick-up retentive components into the model, pick-up material, impression tray, impression material, and a LOCATOR patient education model.
Course #6 Business of Overdenture- efficient and effective case presentation 2 hrs./2 CEU
This session talks about the business of overdentures rather than the techniques. Case planning, patient presentation of the case plan, some of the most common and some of the best materials determined by the procedure and the end goal of patient treatment. Dr. Christensen is one of the preeminent educators in the dental field and always delivers more than what the clinician expects.
Objectives:
Knowing the steps needed in preparing and treating an overdenture patient.

What are some of the best products available to utilize based on the needs of the patient.

Clinical tips for managing more productive treatment of overdenture patients.
Course #7 Dental Materials- A comprehensive overview of these tools in practice 2 hrs./2 CEU
This is a comprehensive review of materials for the real world including Keys to Successful, Predictable, & Efficient Composite Restorations. There are several key elements that will determine the success of direct composite restorations including, material choice, placement technique, and curing method. This presentation will discuss how each element plays a critical role in the professional's decision-making process when determining which materials, systems, and techniques are best to utilize when doing direct adhesive dentistry.
Objectives:
The latest on Bulk Fill as swell as Universal Composites.

Understanding of adhesion, current products and their function in modern day dentistry.

Self cure, layering, and dual cure; when, what, and why.
Course #8 Air Abrasion- inter and extra oral techniques 2 hrs./2 CEU
Exploring the efficiencies of Air Abrasion in everyday dentistry. Minimally invasive dentistry is a growing revolution in dental health care. While this is not a new concept, increasingly more dental professionals recognize the importance of using more conservative techniques. Air abrasion is a very under-utilized form of conservative tooth preparation and has experienced a resurgence due to the advances in bonding and restorative materials. When practitioners choose to utilize the conservative removal of tooth structure and proper bonding protocols, clinicians can improve the longevity of their patients' restorations.
Objectives:
Implement Drill Free Dentistry into your Practice

Understand the many Applications of Air Abrasion

How Micro Etching can Improve your Adhesive Dentistry
Course #9 Current treatment perspectives in implant retained, tissue supported
overdentures/Capstone/Graduation Event. 2 Day LIVE hands-on course 12 hrs./12 CEU
First Session June, Second Session September, Third Session November
When a patient's partial or complete denture lacks the retention and the stability necessary for comfortable wear it negatively affects their quality of life. To improve their condition clinicians will typically prescribe an implant-retained, tissue supported overdenture to provide better function, and esthetics.
Treating the edentulous patient with a prosthesis retained with implants can present numerous challenges to the clinician. These challenges can vary from simple problems to more complicated ones significantly affecting function and patient satisfaction. A strategic treatment plan is necessary to overcome these problems to ensure the final result will be predictable and satisfactory for the patient, and the clinician alike.
This 2-Day LIVE program is designed for clinicians that would like to both treatment plan and treat implant retained removable prosthodontics. This course provides didactic and hands-on training for the successful treatment of the edentulous patient utilizing contemporary implant-retained, tissue supported treatment options. Many clinical situations will be presented with a step-by-step simplified approach to provide a final prostheses that meet patients' expectations from functional and esthetic perspectives. Our two Moderator/Speakers are world renowned dental and implant Overdenture experts: Dr. Micheal Scherer and Dr. Joe Massad.
As our only LIVE session in addition to the didactic and hands-on sessions featuring multiple "ask the experts sessions," we will be incorporating our Capstone Dinner Event that includes, Graduation dinner, presentation of Overdenture Mastership Certification awards, attendee case presentations, Facility tour(Carlsbad), and other activities.
OBJECTIVES:
Review of the guidelines for diagnosis and treatment planning of full and partial implant-retained, tissue
supported overdentures.
Provide an overview of the latest technologies in removable attachment systems.

Review the direct and indirect techniques for efficient and accurate pick-up of the denture attachments

Provide an overview of innovative dental tools and materials used for overdenture modification and
processing.
Review overdenture maintenance guidelines and proper hygiene protocols to ensure overdenture longevity
and patient satisfaction.