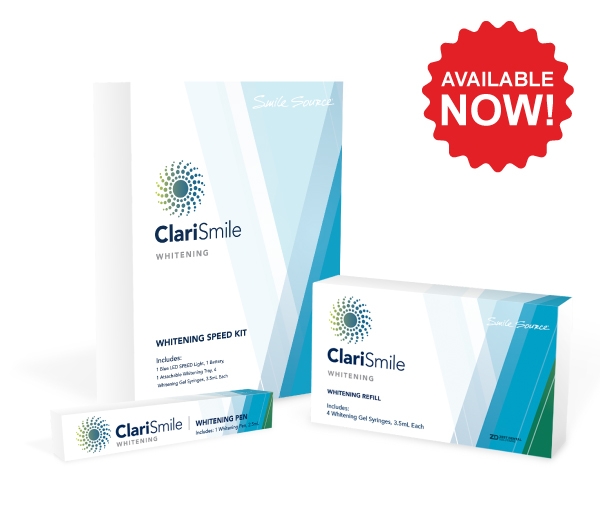 ORDER THE STARTER BUNDLE & SAVE 28%

ClariSmile
WHITENING STARTER BUNDLE
SUPPORT BRIGHT, CONFIDENT SMILES EVERYDAY WITH THE WHITENING STARTER BUNDLE!
25 Speed Kits
10 Syringe Refills
Plus 2 Whitening Pen 10pks
$999

$1380
Frequently Asked Questions
---
How do I order and when will I be charged?
- Orders can be placed directly through Zestdent.com while logged into your Smile Source account, through your local Zest representative, or through our customer service team at 800.262.2310. Please have a credit card ready. You may also order through this page, in which case a Zest representative will reach out to you to confirm your order and collect payment information. At that time, a credit authorization will be placed on your credit card, and you will be fully charged when product ships.
How long does one Whitening Speed Kit last?
- Each Speed Kit provides 8-12 whitening sessions utilizing either a third or half the product per application.
How should I and my patients store ClariSmile products?
- Store ClariSmile at or below room temperature in a cool dark place, as exposure to heat or sunlight may damage the material or cause the product to leak.
How often should patients whiten their teeth?
- Patients should whiten their teeth once a day, as described by the IFU, to prevent any possibility of sensitivity.
How long do patients have to wait to eat or drink?
- Wait at least 1-2 hours before eating or drinking for optimal results.
Are ClariSmile products eligible for the Smile Source Member 10% rebate offered by Zest Dental Solutions?
- Yes, all ClariSmile products are able to get the 10% Zest rebate.
Our Mailing Address:
2875 Loker Ave E
Carlsbad, CA 92010
© Copyright 2021 All Rights Reserved